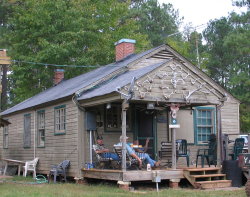 Grunt N Gobble Sportsmen's Club (LLC) is a Georgia hunting club committed to the long term sustainability of the land, game, and it's membership. Sitting 50 miles southeast of Atlanta on two thousand acres of land between historic towns of Monticello and Eatonton, GNG provides it's members with a quality hunting environment surpassed only by the qualiy of the members themselves.
Members enjoy the camp's 45 strategically located food plots, ponds stocked with bass and bream, 15 acre beaver pond attracting duck and geese, and shooting range, as well as a skinning shed and commercial cooler for processing your game after a hunt. Camper utility hookups are available at the Club camp, where members come to rest and enjoy the company of fellow hunters.
"Dedicated to the outdoors though land management and wildlife conservation."
We at GNG take great pride in our members as well as the land we maintain. More information about the camp and the land can be found here. Feel free to browse the photo gallery or check the dates of hunting seasons on the calendar.